Service Area
Vending Machines and Office Coffee Service Pembroke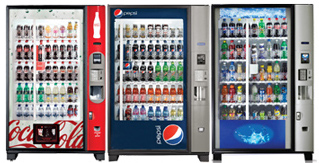 Discover the difference of quality products and top notch customer service in Pembroke when your vending machines, office coffee or water needs are serviced by Ventrex Vending of Pembroke. 24-7 customer service by our professional staff has been satisfying customers since 1987, and you could be next!

Businesses, hospitals, schools, universities and government offices big and small can benefit from vending machines at their location. Vending machines will quench your employees thirst, and handle their hunger while keeping them at work and ready to go so that production and morale will not suffer. We will install your vending machines in Pembroke free of charge, as well as service, clean and keep them filled with the products you use most.

Vending options are numerous, and include the following; Pepsi Cola vending machines, Coca Cola vending machines, hot/cold/frozen foods in vending machines, candy and snack vending machines, vending machines with healthy drink and food choices, coffee vending machines and vending machines with sport and energy drinks are just some of the selections you can choose from. Energy Star rated vending machines are very energy efficient, dependable, and come in a variety of attractive styles and with many functions and payment options. You choose the vending machines that are right for your needs, and we deliver!

Office coffee and tea are essential in keeping a happy and productive workforce. Ventrex Vending will take care of all your break room coffee needs from coffees, teas, equipment and products such as cups, filters, creamers, plates, utensils, sweeteners and sugar. Never an empty shelf-all the products you need for coffee and tea at any time, any shift. No need to go out to the local coffee shop in Pembroke-great coffee will be right in your office!

Five gallon water bottles cans also be delivered in Pembroke by Ventrex Vending. Better yet, we can install a water purification system that will end water bottle storage, heavy lifting when restocking, and the possibility of running out of water during parties or times of warm weather!

Email us at info@vendtrexvending.com or call us at (888) 690-6333 to get started on receiving the quality services provide by Ventrex Vending!