Micro Markets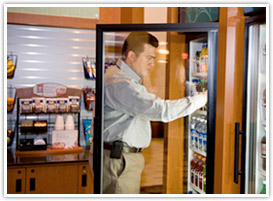 Micro Markets Ottawa-Gatineau, Montreal and Kingston Area
Ventrex Vending works with two of the largest names in Micro Markets, Avenue C and Retail 365, to bring you and your employees
a larger variety of snacks, beverages, fresh and frozen food, coffee and healthy alternatives without you ever having to leave the office.

Micro markets not only take the place of typical vending machines in your break room but can also be used in place of an onsite
cafeteria.

Your market is just that YOURS. At Ventrex Vending we'll work with you on customizing a market to fit your particular needs, whether
that means fresh fruit, mini candy bars, or every flavor of Greek yogurt known to man. Your wish is our command and our wish is to
create a market that helps meet all of your employee benefit, company wellness and snack/mealtime needs.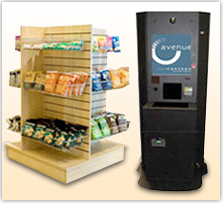 Each market is equipped with modern, energy efficient coolers, attractive fixtures, a self-checkout kiosk and a full security system. Each market also comes with its own web-based inventory management system, making it easy to add products and evaluate inventory quickly.

With reach-in coolers, open shelving, and a self-checkout kiosk, monitored by surveillance cameras the problems associated with vending are distant memories. Because you can handle the product before purchase there is:
No loss of money
No refund hassles
No stuck product
Virtually no service calls

For more information on placing a Micro Market at your business in place of vending or an onsite cafeteria please call today at 1(888) 690-6333
or email us at service@ventrex.ca