Equipment Sales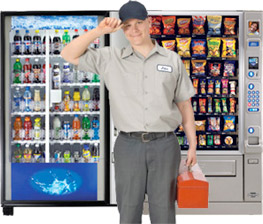 Vending Machines Ottawa-Gatineau, Montreal and Kingston Area
In our on-going efforts to service all vending related needs Ventrex Vending has expanded our services to go beyond servicing
just our own machines. To better meet your needs, we also offer machine repair, machines for sale, and equipment relocation.

Machine Repair - Our 24/7 emergency service mechanics have trucks fully stocked with tools and spare parts, allowing us to
respond quickly to vending repair issues at any time of day. Most snack/beverage and refrigeration issues can be repaired on
site by our trained technicians.

Equipment Sales - We carry a large inventory of new and used equipment, including parts for sales.

Equipment Moving - Need to move your vending machine to a new location? Let our trained staff and professional equipment do
the heavy lifting and eliminate the risk of property damage and/or personal injury.
For more information on repair, sales, equipment, moving or any of the services Ventrex Vending offers please call today at 1(888) 690-6333
or email us service@ventrex.ca