Office Coffee
Office Coffee Service Ottawa-Gatineau, Montreal and Kingston Area
At Ventrex Vending we take great pride in offering the most modern equipment in the industry, focusing on machines that save
energy while bringing you the refreshing, thirst quenching, energy giving, name brands that you love. Our machines are LED
compliant using LED lighting to save your energy bill and the environment, in turn contributing to your company's Green efforts.
At Ventrex Vending we pride ourselves on dependable equipment and dependable service. As such our machines are cleaned
and maintained regularly to ensure their correct operation. In addition your cabinets are continually restocked so you never run
out of the coffee and break room supplies you depend on, including condiments, creamers, sugars and paper goods.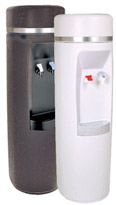 Water Filtration
Because the biggest ingredient in your coffee is water, Ventrex is happy to offer bottle-less water filtration
units to our customers that plumb directly into existing water lines. Our water filtration units come in counter
top and stand alone units and dispense both hot and cold water, delivering fresh and clean water while
saving the money and space of traditional water jug units.
So if you are looking for state-of-the-art equipment and a convenient, high-quality and cost sensitive cup of
coffee look no further than Ventrex Vending. Email us today at service@ventrex.ca for more information.