Service Area
Vending Machines and Office Coffee Service Mirabel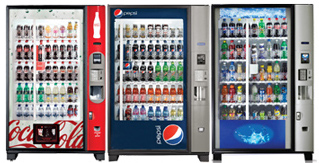 It makes good sense to provide your employees with the services in Mirabel offered by Ventrex Vending! Boost morale and stay productive with full service vending, water delivery and office coffee services from Ventrex Vending of Mirabel.

Our professional staff is available to you 24/7-keeping your equipment at peak performance, products stocked and ready to be used by all in your Mirabel location. Vending foods and beverages include vending machines with Pepsi Cola products, vending machines with Coca Cola products, candy vending machines, snack and food vending machines, coffee vending machines and vending machines with healthy foods and beverages low in fat, calories and sodium. You pick form a wide selection of vending equipment to dispense the products you desire at your Mirabel business.

Office coffee service by Ventrex Vending is available to you in Mirabel also. Picture this; your Mirabel break room full of your name brand favorite coffees and teas as well as all the cups, filters, napkins, plates, utensils, creamers and sweeteners you will ever need without having to shop for the items yourself. Pleased employees without complaints about quality or poor selection, just great tasting coffee and tea anytime they are needs for that extra boost to keep productive! Single cup brewers, pour through thermos systems and traditional pour over coffee brewers are also available to you in Mirabel from Ventrex Vending.

Get your water bottles delivered in Mirabel form Ventrex Vending also. End the storage and restock of heavy water bottles with an installation of one of our water filtration devices. You will have an endless supply of great tasting water at all times-you'll never run out again!

Email Ventrex Vending at info@ventrexvending.com or call us at (888) 690-6333. Do it now!