Service Area
Vending Machines and Office Coffee Service Cornwall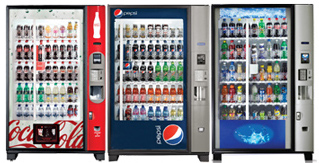 Your Cornwall business can enjoy the services that Ventrex Vending has been offering others since 1987; full service vending, office coffee and water delivery/filtration installation. We pride ourselves on our superior customer service and the quality of the products and services we offer. Our staff is available to handle your needs in a professional manner 24/7. We understand that your work week may not be nine to five Monday through Friday, and we are here for you whenever you may need us.

Vending equipment is new, dependable, stylish and energy efficient and will be installed for free, filled for free, and maintained by Ventrex Vending for free. Products in your vending machines are of your choosing. Coca Cola vending machines, Pepsi Cola vending machines, candy vending machines, snack vending machines, food vending machines, coffee vending machines and much more are available to you in Cornwall. You choose, we set up and deliver!

Is your office coffee in your Cornwall break room less than desirable? Make the change and have Ventrex Vending transform that break room into your very own coffee and tea house! Modern brewing equipment such as single cup brewers and pour over thermos systems or standard pour over coffee pots, coffees, teas, hot chocolates and the creamers and sweeteners too will be stocked and ready to be served in your break room. Coffee and teas get your employees back on task and ready to produce and play much too important of a part to be neglected any longer!

Need fresh drinking water in your Cornwall location? We deliver there also. Bottled water or water filtration systems are the methods we use to get our Cornwall customers all the water they could possibly need.

Call us at (888) 690-6333 or email us at info@ventrexvending.com. A host of people in your office will be very glad you did!