Service Area
Vending Machines and Office Coffee Service St Jerome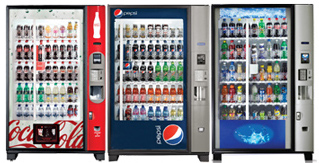 Your most valuable asset is your employees-improve production and show them how important they are to your business by incorporating the services of Ventrex Vending in St Jerome!

St Jerome has many vending options to choose from, and Ventrex Vending installs vending machines, fills them, keeps them full as well as cleans and repairs them when necessary at no cost to you. Our techs are available 24/7 to resolve any issues that may come up. With the new vending equipment available in St Jerome, problems are few as they are dependable, attractive and energy efficient!

Your vending machines can come with quality name brand products from Pepsi Cola and Coca Cola and a host of others. Candy vending machines, snack vending machines, food vending machines (hot, cold or frozen), coffee vending machines, vending machines with healthy foods and beverages and so on can be yours through Ventrex Vending in St Jerome. With our help, you select the vending equipment and the products they carry to best meet the needs of your hungry and thirsty employee's. Keep them at work at get them back to work quickly and effectively with vending machines from Ventrex Vending!

Nothing motivates and stimulates like coffee and tea in your St Jerome office, and you can convert your ordinary break room into a wonderful coffee house that will satisfy all in your office. Huge coffee and tea offerings along with the necessary equipment and condiments needed to deliver a delicious cup anytime one is needed. Cups, filters, plates, napkins, utensils as well as the creamers and sweeteners all stocked and ready to go.

Bottled water delivery is available in St Jerome as well. Tired of the storage problems and heavy lifting of the water bottles? We can eliminate them with water filtration added to your existing water source. No running out of great tasting water again!

(888) 690-6333 or info@ventrexvending.com are two ways you can contact us right away to get the services we offer.