Service Area
Vending Machines and Office Coffee Service Smiths Falls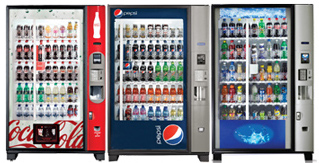 Ventrex Vending in Smiths Falls delivers! We deliver quality, exceptional customer service and have since 1987 in vending machines, coffee service and water filtration or water bottle delivery.

Let's face it, when your employees have to leave to get simple needs taken care of such as getting a cup of coffee or something to eat, they can be wasting valuable time and energy in doing so. Keep them on site and get them back to work faster by having what they need right at the workplace! Vending machines are available with a host of fresh, quality name brand items that they need to stay focused. Vending machines have come a long way with new technology and are more dependable, attractive and energy efficient than ever. Ventrex Vending installs your vending machines at no cost. We also keep them full of your favorites and maintain them at no cost-a win-win situation if ever there was one! There are vending options available too, where you can offer a benefit to your employees through subsidized vending or free vending, really keeping them at work and ready to produce. You choose the products and the vending equipment for your Smiths Falls location, Ventrex Vending takes care of the rest!

Coffee services in Smiths Falls from Ventrex Vending just can't be beat! Numerous name brand coffees and teas, brewing equipment and the paper products and condiments all fully stocked on your Smiths Falls break room shelves. You will have excellent coffee and tea any time of the day or night, no matter what strange hours your business may keep. Nothing refreshes like coffee, so it just makes good sense to have great coffee readily available for your Smiths Falls staff.

Do you have plenty of fresh, crisp, clear drinking water on hand? Ventrex Vending also delivers water bottles in Smiths Falls as well as provides water filtration services. Our water filtration systems will convert your ordinary tap water into something extraordinary, without the storage hassles and heavy lifting of water bottles. You also end up with an endless supply that will never run dry!

Call Ventrex Vending today at (888) 690-6333 or email us at info@ventrexvending.com-our representative will explain all the options and help you determine what equipment and products will best serve your particular needs!