Service Area
Vending Machines and Office Coffee Service Perth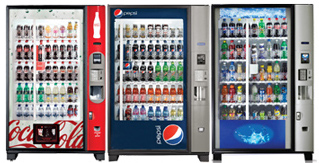 Businesses, Schools, Universities, Hospitals and Government offices in Perth have discovered the value of the services offered by Ventrex Vending, and your needs in vending, office coffee and water delivery is also just a phone call away.

Since 1987, we have excelled in customer service and providing quality products to our customer base in Perth and surrounding areas. Vending machines and coffee services keep your valuable workforce at top proficiency by giving employees the food and beverages they need right at your location without the need for long breaks leaving to seek them out.

Vending equipment has gone through some very positive changes due to the technology now available. They are dependable and conserve energy, and are very attractive. You choose the products that are in your vending machines, and Ventrex Vending will install them fill them, keep the full and cleaned and maintained for no charge to you. No matter how small or large of an operation you have in Perth, we can service you better than anyone else in the business!
Vended products available in Perth:
Coca Cola and Pepsi Cola vending machines
Food, candy and snack vending machines
Coffee and tea vending machines
Sport drinks and energy drinks in vending machines
Healthy alternatives in vending machines
Much more!
Coffee services in Perth:
Brewing equipment such as single cup brewers and pour through thermos systems
Huge selection of coffees and teas
Condiments such as sweeteners and creamers
Break room essentials like cups, filters, plates, napkins and utensils
Fully stocked break room shelves always ready to serve!
Water services in Perth:
Water bottle delivery
Water filtration added to your existing water source
Call us at (888) 690-6333 or email us at info@ventrexvending.com