Service Area
Vending Machines and Office Coffee Service Ottawa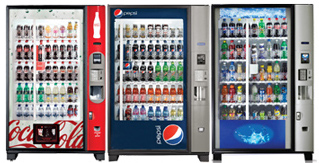 Since 1987, Ventrex Vending has been servicing businesses, hospitals, schools and government offices in Ottawa with full service vending, coffee service and water delivery and filtration installations.

Your office in Ottawa can also enjoy the benefits of having the foods and beverages needed to keep your staff going with quality vending machines at no cost to get you set up. Vending machines deliver a host of great products, including products such as Coca Cola and Pepsi Cola. There are also snack vending machines, candy vending machines, vending machines with hot, cold or frozen foods, vending machines with healthy alternatives and vending machines with sport and energy drinks. Your vending machines in Ottawa will be new, attractive and energy efficient. We will install them, fill them with the products of your choosing, keep them full and maintained at no cost.

Office coffee services are also available in Ottawa from Ventrex Vending. No matter how large or small your business is, we will supply your office with the coffee and condiments and have your break room shelves always stocked and ready to go. Large selection of coffee, teas and the brewing equipment such as single cup brewers or pour through thermos systems can be yours. We take care of all the supplies; cups, filters plates, napkins, utensils as well as sweeteners and creamers. Everything you need for great coffee and tea will be on hand for any shift.

Water delivery in Ottawa and water filtration installation is also available. We also do catering, vending machine sales and service, vending equipment moving and sell vending supplies.

In Ottawa, we can be reached toll free at (888) 690-6333 or by email at info@ventrexvending.com.