Service Area
Vending Machines and Office Coffee Service Montreal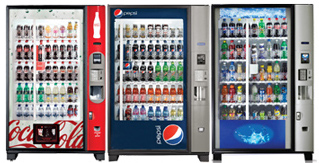 Get your employees the items they need to stay productive at your Montreal location when it comes to vended foods and beverages, office coffee or quality drinking water by contacting Ventrex Vending at (888) 690-6333 or emailing us at info@ventrexvending.com.

Vending machine options available to our Montreal customers:
Coke and Pepsi vending machines
Candy and snack vending machines
Hot, cold or frozen food selections in vending machines
Coffee, tea, hot chocolate and other warm beverages in vending machines
Nutritious and delicious foods and beverages in vending machines
Vending options in Montreal such as traditional, subsidized and free vending
Set up, install, filling, refilling and maintenance of our vending machines at no cost
Your Montreal location can also have excellent coffee and teas with our office coffee services in Montreal:
Single cup brewers, pour through thermos systems or pour over equipment
Numerous name brand coffees or teas
Cups, plates, napkins, utensils and filters
Creamers, sugar and sweeteners
Your Montreal break room shelves fully stocked at all times!
Water needs filled in Montreal:
Water filtration
Water bottle delivery
Get the competitive edge by satisfying your employees in Montreal by calling Ventrex Vending at (888) 690-6333 or emailing us at info@ventrexvending.com. Since 1987, businesses, hospitals, schools, universities, community centers and government offices have relied on the services from Ventrex Vending to keep employees on track and provide customers with quality foods and beverages through vending machines and office coffee services!