Service Area
Vending Machines and Office Coffee Service Gatineau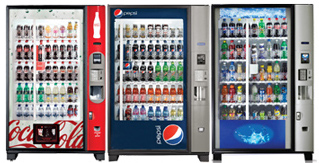 Need a full service vending company in Gatineau? Ventrex Vending has been offering full service vending and much more to Gatineau for over twenty five years.

Vending machines in your Gatineau office/workplace can increase production and increase morale just by having the food and beverages they require to keep on task close at hand. Vending equipment is state of the art, energy efficient, extremely dependable and very attractive these days. You have a huge selection of fresh, quality name brand products to choose from for your vending machines. Vending machines with Coca Cola and Pepsi products, healthy foods and beverages in vending machines, candy vending machines, snack vending machines, vending machines with hot, cold or frozen selections and vending machines with energy and sport drinks as well. There are also vending options such as free vending, subsidized vending or traditional vending with user paying the full price of vended products. Our representative will visit your Gatineau location and help you determine the best options to fit your individual needs.

Along with vending services, we also offer office coffee services in Gatineau. Your office can have a wide selection of name brand coffees and teas, as well as brewing equipment and the condiments necessary to make great coffee at any time, any shift. Filters, cups, plates, napkins, utensils and creamers and sweeteners all fully stocked in your break room. No need to eave to purchase a good cup of coffee or a cup of tea, they will be readily available to employees and customers in your well maintained break room!
Water needs are handled in Gatineau by Ventrex Vending also. Water filtration or water bottle delivery is available.

Ventrex Vending in Gatineau also sells vending equipment, repairs vending equipment and can move your vending equipment.
Contact Ventrex Vending at (888) 690-6333 or by email at info@ventrexvending.com.