Service Area
Vending Machines and Office Coffee Service Belleville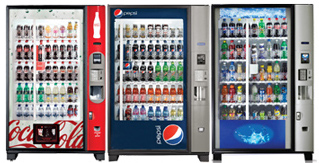 Your Belleville establishment can join a long list of other satisfied customers receiving the professional services of Ventrex Vending in regards to full service vending, office coffee service or water services. Established in 1987, our reputation for honesty, quality and integrity has allowed us to grow into one of Canada's premier full service vending companies.

Vending machines come with items to satisfy all your employees; Coca Cola vending machines, Pepsi Cola vending machines, candy vending machines, snack vending machines, food vending machines, coffee vending machines, vending machines with sport and energy drinks as well as other carbonated and non carbonated beverages are just some of the selections that you will be able to choose for your business. Installed, maintained and filled for you by Ventrex Vending free of charge!

Coffee in Belleville can be made easy when Ventrex Vending takes over the chore in your Belleville break room. Quality, name brand coffees and teas, brewers and the condiments that go into a great coffee experience without wasting time leaving the office to go and get it! Your Belleville break room will have all the making for great cups of coffee or tea; cups, creamers, sweeteners, plates, napkins, stir sticks, utensils and coffee filters stocked, organized and ready for your use-any time, any day of the week.

Water filtration in Belleville can end the need to store or lift into place heavy water bottles. Our filtration system turns your ordinary tap water into extraordinary drinking water and gives you a supply that will never run dry! And, yes, we also deliver water bottles for use on your coolers.

Email us at info@ventrexvending.com or make the phone call to change the attitudes in your office to extremely positive ones at (888) 690-6333.