Service Area
Vending Machines and Office Coffee Service Arnprior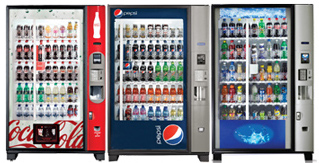 Does your staff in Arnprior have to leave on extended breaks to get coffee, tea or the food they require to stay focused at their jobs? End that practice with vending machines or office coffee services from Ventrex Vending of Arnprior!

For free we will install vending machines, stock them, keep them stocked and clean and service them. No hassles to you, only the benefits of having quality products that everyone knows and enjoys right at your location.
Coca Cola vending machines, Pepsi Cola vending machines, snack vending machines, food vending machines, candy vending machines, vending machines with healthy and nutritious alternatives, coffee and tea vending machines and many more can be yours in Arnprior from Ventrex Vending.

Nothing works as well as a good cup of coffee or tea to refocus employees and get them back on task quickly. Our office coffee service will do just that, and your Arnprior employees will be pleased with the organization, name brand selections, and professional grade brewing equipment that we offer. Remove the burden of trying to satisfy the masses by purchasing miss matched products and keeping break room shelves stocked-we will handle it! Coffee, tea, hot chocolate, cups, plates, napkins, utensils, sweeteners, creamers and the like will always be available for immediate use.

Great drinking water makes great coffee, tea and other beverages or is refreshing just alone-have the water you need in Arnprior with water bottle delivery or water filtration services by Ventrex Vending. We have been providing our services in Arnprior since 1987!

Call us at (888) 690-6333 today or email us at info@ventrexvending.com-you and your employees will be very pleased with the results!